CANIVERA ADULT LAMB&RICE LARGE BREED
Benefits:
HYPOALLERGENIC FORMULA with highest lamb content* for dogs suffering from food intolerances.
ANTARCTIC KRILL is a rich source of omega 3 fatty acids, astaxanthin and other antioxidants, a healthy alternative for dogs that do not tolerate fish in their food.
ADDED GLUCOSAMINE AND CHONDROITIN helps maintain strong, supple joints and cartilage.
EXTRA MSM to improve immune function, reduce pain, lower inflammation and restore healthy bodily tissue.
TAURINE helps protect heart function and helps prevent heart muscle damage.
Weight
: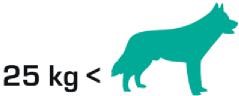 Age: adult dogs, above 1 year
Description
성견 대형견을 위한 양고기와 쌀이 풍부한 완전 건조사료.
Composition
양고기(20%), 쌀(20%), 밀, 완두콩, 탈수 동물성 단백질, 동물성 지방(닭)(6,5%), 옥수수, 가수분해 닭간(4,5%), 어유, 비타민 및 미네랄, 비트 펄프, 말린 남극 크릴(EPA 및 DHA의 천연 공급원), 말린 치커리(FOS 및 이눌린의 천연 공급원), 양조 효모(MOS의 천연 공급원), 글루코사민(50mg/kg), 콘드로이틴( 50 mg/kg), MSM(메틸설포닐메탄)(50 mg/kg), Yucca schidigera, 식물 추출물(Rosemarinus sp., Vitis sp., Curcuma sp., Citrus sp., Eugenia sp.).
첨가제(mg/kg): 비타민: 비타민 A(IU/kg)(레티닐아세테이트 3a672a): 24.000, 비타민 D3(IU/kg)(E 671): 2.000, 비타민 E(all – rac – α – 토코페릴락테이트 3a700): 200. 아미노산: 타우린 1.500. 미량 원소: 철(철(II) 황산염(일수화물) – 아미노산의 철(II) 킬레이트) (E1): 90,0, 구리(구리(II) 황산염(일수화물) – 아미노산의 구리(II) 킬레이트 ) (E4): 13,0, 아연(아연(II)설페이트(일수화물) – 아미노산의 아연(II) 킬레이트) (E6): 100,0, 망간(망간(II)옥시드 – 망간(II) 킬레이트 아미노산) (E5): 40,0, 요오드(요오드산칼슘)(3b201): 1,50, 셀레늄(아셀렌산나트륨)(E8): 0,20. 바인더: 몬모릴로나이트(E558): 4.500,0. 장내 식물 안정제: Enterococcus faecium NCIMB 10415(E1707): 109cfu/kg. 항산화제.
Analysis:
| | |
| --- | --- |
| Crude proteins | 23,0 |
| Crude oils and fats | 13,0 |
| Omega 3 – fatty acids | 1,2 |
| Omega 6 – fatty acids | 2,0 |
| Crude fibres | 2,5 |
| Inorganic matter | 8,0 |
| Calcium (Ca) | 1,6 |
| Phosphorus (P) | 1,3 |